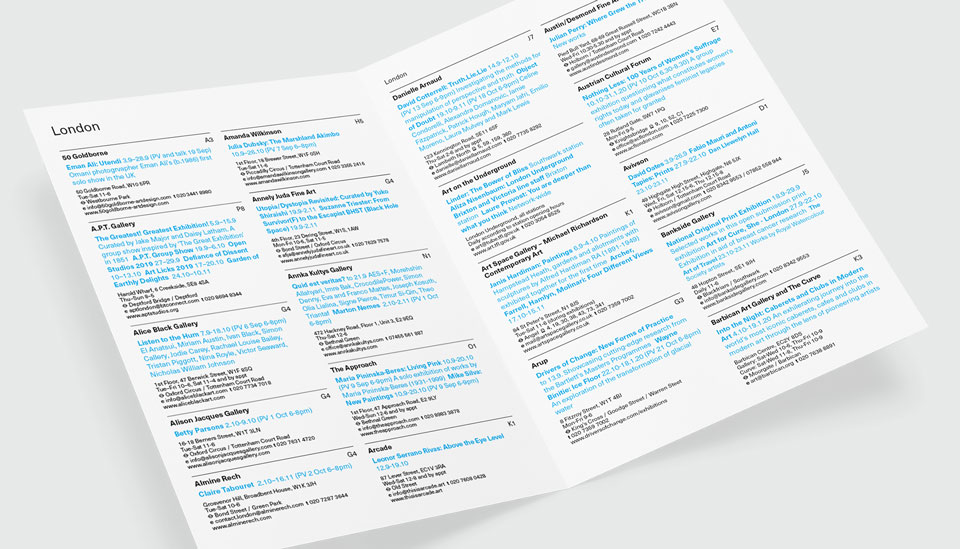 Art resource, since 1978
For over 40 years, New Exhibitions has pursued a simple aim: to provide an independent, comprehensive, timely and accurate guide to the contemporary art scene.
Created in London in 1978 by Kay Roberts, New Exhibitions has grown from under 20 galleries in its first issue to hundreds today, reflecting the importance of contemporary art to both our society and our economy.
Today it is an art world classic, widely considered to be the industry's publication of record. Free to pick up in member galleries and selected outlets, the pocket-sized pamphlet with its iconic design - in Pantone colour and Helvetica type – is the best recognised guide to exhibitions in London and across the UK.
newexhibitions.com (online since 2000) provides to up-to-the minute gallery listings, a daily calendar of exhibitions and events, auction timetable, artist index, geo-locating map of venues and events, plus much more.
If your gallery or organisation would like to join New Exhibitions, please register your interest here. There is a selection process and print inclusion is subject to deadlines.
Individuals and institutions can subscribe to New Exhibitions here.
We are continually striving to improve New Exhibitions and welcome comments and suggestions on all aspects of our service.
For further information on New Exhibitions, please contact us by email: info@newexhibitions.com
Contact
New Exhibitions of Contemporary Art Ltd
Unit 353, 268 Belsize Road
London, NW6 4BT
+44 (0)20-7461-0189
info@newexhibitions.com